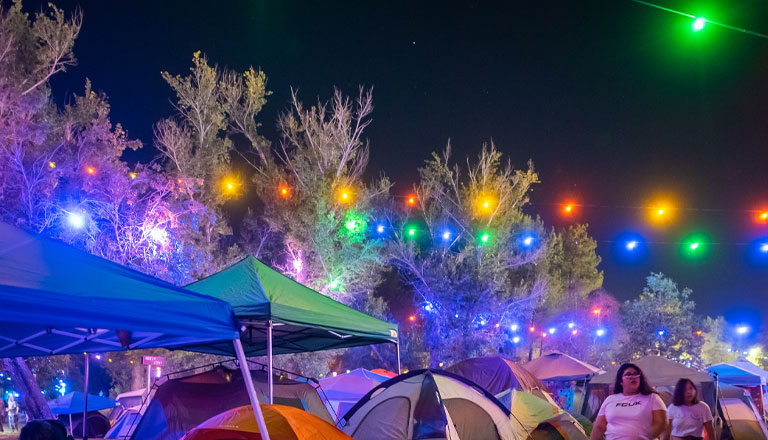 Cheshire Cove
A roomier site in a restricted & enclosed campground, provides an enjoyable, private and secure atmosphere.
3-Day Camping Pass
Full Price
$219
+ Taxes & Fees
Sold Out
Amenities
*Amenities are subject to change pending state and county restrictions at this time.
The approximate dimensions of the camping spots in Premier camping are 18'x35', enough room for (2) 2-4 people tents and one vehicle.

On-site security patrols

Experienced staff are on hand to provide assistance as needed and to monitor sites for unauthorized guests.

Premier camping is conveniently located to access the amphitheater (near the pathway to the Gorge Venue)

Has superior views across the Gorge and has easy egress. These campsites are extra roomy and easily accessible to accommodate larger vehicles i.e. SUVs, RVs or travel trailers.

Sorry, no RV hookups available (power/water)

Access to clean, private restrooms and free shower facilities

Free shuttle service to the Amphitheatre that drops you at a specified drop off location within the venue.

RV/Camp Trailer pump out and water delivery services are available by Honey Bucket for a fee. Please see our

FAQ

page for pricing.

All occupants must be present at time of check-in

Management reserves the right to make decisions on a case by case basis, all management decisions are final.

Premier campers are allowed to access Standard Camping and Gold/Big Rig areas.

It is not always possible to camp groups together. If your group would like to camp together, you need to arrive together.
Cheshire Cove Check-in
Shipping
If you purchase camping with your festival tickets, you will receive your camping and vehicle passes with your tickets. If you purchase camping separately, your passes will be delivered separately. If your festival and/or camping passes are being held at Will Call, just present your order number, credit card, and photo ID to pick them up at Campground Ticket Help.
Arrival
It is not always possible to camp groups together. If your group would like to camp together, you need to arrive together.
There is a limit of 1 vehicle per camp ticket no exceptions. For more details please visit our FAQ page.
Parking & Search
Upon entry to the campground, your vehicle will be thoroughly searched, and you will be assigned your campsite. Please minimize the space you occupy so that others can share the grounds. Be prepared for long entry lines on Thursday and Friday, as it takes time to search and process every vehicle!
Group Camping
If you and another group of campers arrive together and have purchased the same type of camping pass, you may be assigned adjacent campsites. "Saving spots" is not allowed, and spots will be assigned on a first come, first served basis. Please plan accordingly!