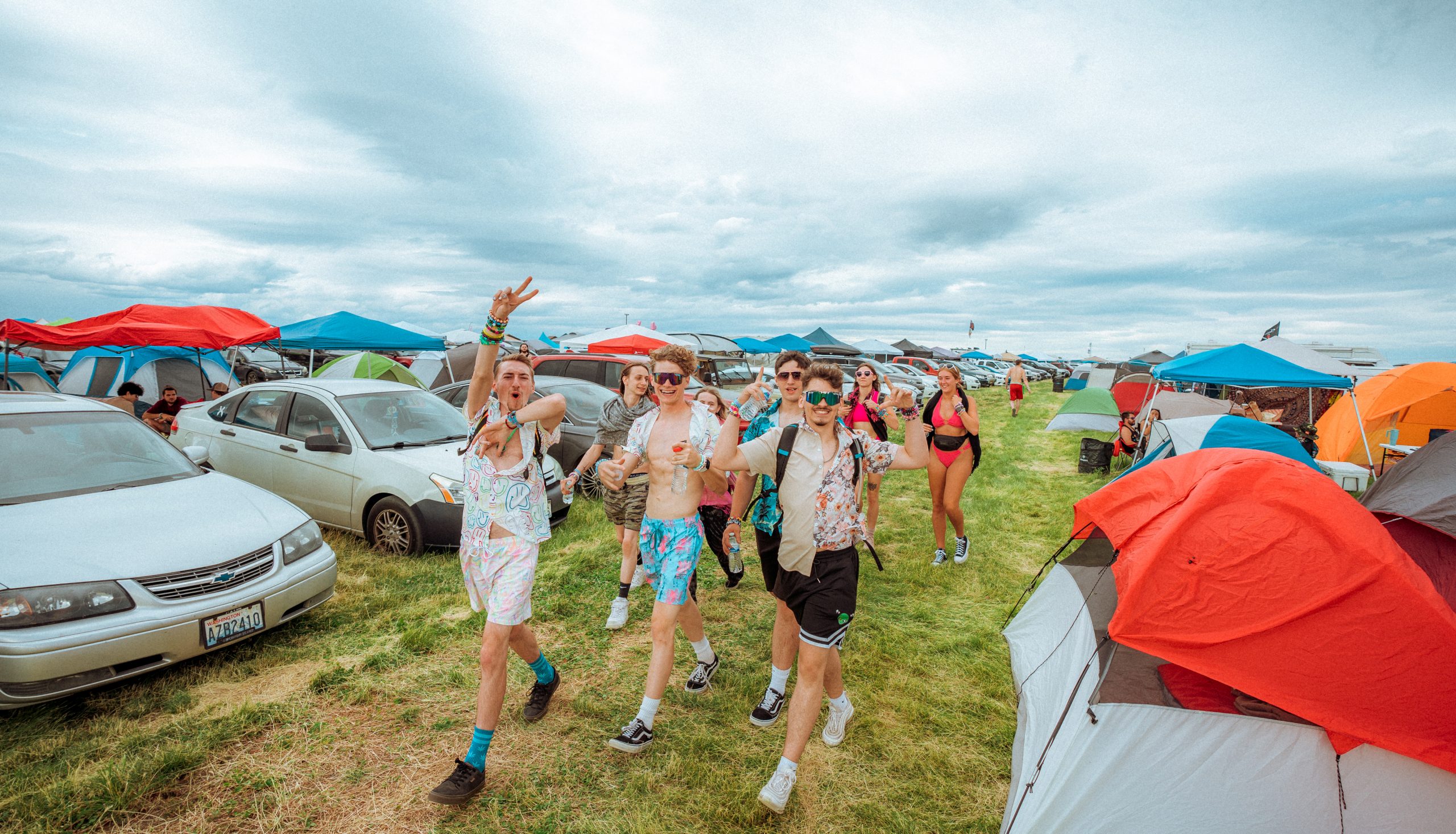 Safety & Rules
At Beyond Wonderland PNW, your safety is our top priority. By entering the festival grounds, you agree to and must adhere to the following guidelines:
Searches Upon Entry
All persons and vehicles will be subjected to a full search upon entering the campground. Please be prepared to exit your vehicle for the search.
Firearms and weapons of any kind are prohibited – on your person, in your vehicle, or in your campsite.
Violation of any campground rules or policies will lead to eviction, fines, or possible incarceration under applicable state criminal laws, and/or Grant County ordinances prohibiting disturbing the peace or creating a public nuisance.
Anticipated Wait Times: Please be aware that due to increased security measures, wait times to enter the campgrounds may range from 2 to 3 hours. To avoid delays and start your Beyond Wonderland PNW experience on the right note, we strongly recommend arriving early.
Prohibited Items
The following items are strictly prohibited within the festival grounds, including the campgrounds:
NO firearms or weapons of any kind – on your person, in your vehicle, or in your campsite.
NO drones. Drones (UAV's) are strictly prohibited from being used anywhere on festival property, including but not limited to the campground, parking lot, and event areas. Drones violating this rule will be confiscated.
Fans aged 17 years and younger must be accompanied at all times by a parent or supervising adult aged 21 or older for the entire duration of their campground stay.
NO illegal drugs or drug paraphernalia.
NO gases (including but not limited to Nitrous oxide and/or CO2 cartridges).
NO fireworks.
NO camp/open fires.
NO animals (Service Animals allowed, please refer to the ADA/ACCESSIBILITY page for more information).
NO large parties or gatherings with exterior speaker systems. Sound systems are limited to USB-powered/personal portable speakers. Amplified sound systems are not allowed. The festival reserves the right to remove sound systems not following these guidelines, and repeat offenders of noise complaints are subject to removal from the campground.
NO kegs or binge drinking devices.
NO medical or recreational marijuana on private property.
Unauthorized vending of food or merchandise, including alcohol, is prohibited under Washington State Law.
Obey all posted "No Trespassing" signs.
NO underage use or possession of alcohol.
Campground Etiquette
Please respect those around you and yourself while staying in the campgrounds:
Quiet time is strictly enforced from 2:00 AM to 8:00 AM.
All campers must be present at the time of check-in.
You must possess a valid concert ticket to be at the campgrounds.
Campers must be packed and vacated from the campgrounds by 12 PM unless otherwise stated on your departure date (as located on your camping ticket).
Please take care of your valuables; Beyond Wonderland PNW is not responsible for any lost or stolen items.
Code of Conduct
The following actions may result in a warning and/or ejection from the festival grounds:
Failing to cooperate/comply with festival security.
Irresponsible use of alcohol.
Public nudity.
Accessing restricted areas without proper passes.
Taunting, bullying, abusive/disruptive language, and/or obscene gestures.
Moving an RV or vehicle to another location after placement by festival staff.
Parking or extending any part of RV or tent into fire lanes or outside designated/marked areas.
Violating the tent and RV camping power grid policies.
Littering.
Immediate Ejection
The following actions will result in immediate ejection from the festival grounds, and refunds will not be issued:
Relieving your bladder or bowels anywhere other than approved restrooms/porta-potties.
Fighting or engaging in any action that may harm, endanger, threaten, or bring discomfort to anyone.
Public lewd behavior.
Possession/use of illegal substances.
Damage, destruction, vandalism, or theft of any property.
Use of prohibited drones (UAV's).
Any person who fails to adhere to the safety and rules may be evicted from Beyond Wonderland PNW at the sole discretion of festival management.
Please remember that these measures are in place to ensure the safety and enjoyment of all festival attendees. We appreciate your cooperation and look forward to creating a safe and unforgettable experience at Beyond Wonderland PNW.
Additional Safety Resources
For more detailed safety guidelines and information, please refer to the following resources:
The Gorge Safety Guidelines: Explore The Gorge's comprehensive safety guidelines to ensure a safe and enjoyable experience.
LiveNation Venue Information : LiveNation also provides important safety guidelines that you should be aware of when attending events like Beyond Wonderland PNW.
It is essential to familiarize yourself with these resources to ensure your safety and the safety of all festival-goers. We appreciate your commitment to creating a safe and memorable experience at Beyond Wonderland PNW.