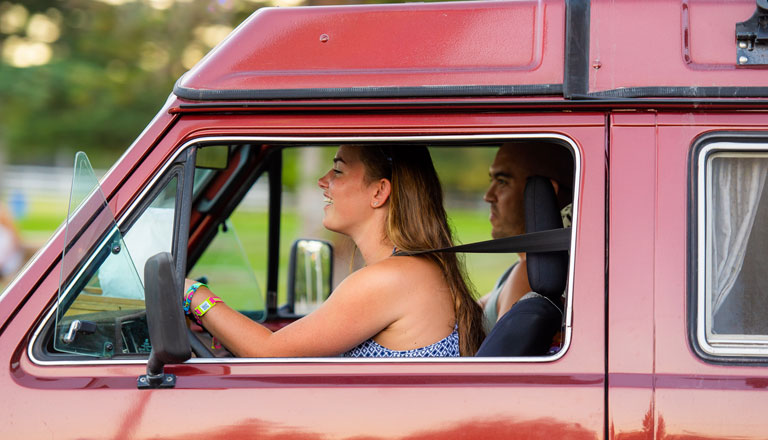 Camping Entry & Hours
Hours
Daily Festival Hours
Friday, June 12 & Saturday, June 13, 2020
Will Call Opens: 4pm daily
Event Times: 2pm – 1:30am daily
Campground Hours
Thursday, 6/11, 1pm – Sunday, 6/14, 12pm. All campers must be fully packed and vacating the campground by 12pm on Sunday, 6/14.
Campground Check-In
HOURS COMING SOON
Please arrive only during the check-in hours listed, and allow extra time for unexpected delays, as closing times are strict. 
Separate Arrivals
If you are arriving after your group has already checked in to the campground and claimed your campsite, you will need to visit our Campground Ticket Help during operating hours to claim your camping wristband. You must provide your festival pass, your group's camping confirmation number, and a photocopy of the original purchaser's ID. Camping wristbands will be granted only if your campsite's capacity has not been reached (maximum of 6 people per campsite). Please keep in mind that our camping check-in hours are Thursday, 1pm, to Saturday, 3pm. Arrivals outside of these times will not be accommodated.
Camping Guest Services & Ticket Help
Thursday, 1pm – Saturday, 3pm
Located by the main entrance to the camp—clearly marked on the right as you enter
Ins & Outs
Campers will NOT have in/out privileges to and from the festival (during festival hours), with the exception of VIP.
Campers with a valid camping wristband are allowed to leave the campground on foot.
All Headliners must have a festival wristband and camping pass in order to access the campground.
Camping Check-In
Check-in procedures vary by camping type. Please refer to your camping type's page for more information.