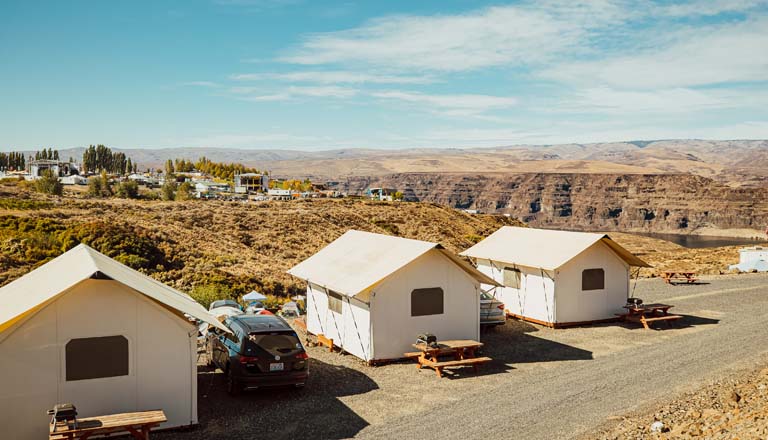 Queen's Ravine
Camp in luxury and comfort in Queen's Ravine (Glamping). Our preset tents include an air mattress, sleeping bags, and pillows.
Amenities
*Amenities are subject to change pending state and county restrictions at this time.
Furnished, preset cottage style tent for two persons.
Each tent has bedding and furniture. Please bring your own towels.
Each tent includes cooler, fan, lamp and power for cell phone charging.
All the amenities that the Terraces offer but with none of the hassle of bringing your own RV or Tent.
Exclusive clean, private restroom and free shower facilities.
Free shuttle service to the Amphitheatre that drops you right at a specified drop off location in the venue.
24 hour security
dedicated concierge service
Complimentary fresh coffee and pastries in the morning to enjoy as you wake up to the best views in the campground (in our opinion).
Access to all the facilities of the main campground and the fun!
All occupants must be present at time of check in. It'll be a quick and easy out from here once your stay is over. We'll hope to see you back again for the next amazing Gorge concert. Management reserves the right to make decisions on a case by case basis, all management decisions are final. Set in an exclusive secluded area within the Terraces.
Queen's Ravine Check-In
Shipping
If you purchase camping with your festival tickets, you will receive your camping and vehicle passes with your tickets. If you purchase camping separately, your passes will be delivered separately. If your festival and/or camping passes are being held at Will Call, just present your order number, credit card, and photo ID to pick them up at Campground Ticket Help.
Arrival
It is not always possible to camp groups together. If your group would like to camp together, you need to arrive together.
There is a limit of 1 vehicle per camp ticket no exceptions. For more details please visit our FAQ page.
Parking & Search
Upon entry to the campground, your vehicle will be thoroughly searched, and you will be assigned your campsite. Your Queens Ravine Glamping tent will be set up and ready for you to occupy. Please minimize the space you occupy so that others can share the grounds. Be prepared for long entry lines on Friday and Saturday, as it takes time to search and process every vehicle!
Group Camping
If you and another group of campers arrive together and have purchased the same type of camping pass, you may be assigned adjacent campsites. "Saving spots" is not allowed, and spots will be assigned on a first come, first served basis. Please plan accordingly!