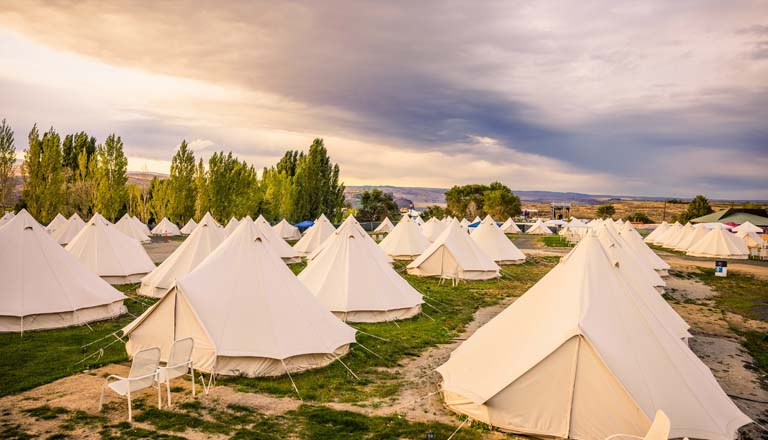 Royal Shipyard
All Royal Shipyard experiences include bag service, furnished canvas tent, and 24/7 concierge service. The campground also has 2 large grills and complimentary light breakfast exclusively for Royal Shipyard guests to use.
Royal Shipyard Camping Pass
Amenities
Fully Furnished Canvas Tent for 2 (queen or two twin beds) or 4 (4 cots)
Locking Entrance
Lighting
Memory Foam Mattress
Bed Linens & Pillows
Bath Linens
Shampoo & Conditioner
Restroom & Shower Buildings
Parking for one (1) vehicle
Royal Shipyard Check-In
Shipping
If you purchase camping with your festival tickets, you will receive your camping and vehicle passes with your tickets. If you purchase camping separately, your passes will be delivered separately. If your festival and/or camping passes are being held at Will Call, just present your order number, credit card, and photo ID to pick them up at Campground Ticket Help.
Arrival
It is not always possible to camp groups together. If your group would like to camp together, you need to arrive together.
There is a limit of 1 vehicle per camp ticket no exceptions. For more details please visit our FAQ page.
Parking & Search
Upon entry to the campground, your vehicle will be thoroughly searched, and you will be assigned your campsite. Please minimize the space you occupy so that others can share the grounds. Be prepared for long entry lines on Friday and Saturday, as it takes time to search and process every vehicle!
Group Camping
If you and another group of campers arrive together and have purchased the same type of camping pass, you may be assigned adjacent campsites. "Saving spots" is not allowed, and spots will be assigned on a first come, first served basis. Please plan accordingly!